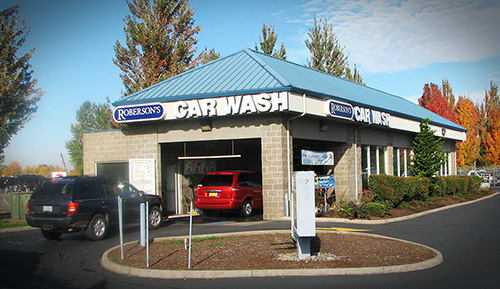 Roberson Car Wash
An Express wash where you ride in your vehicle through the wash while it's getting clean.
Fast, Efficient, and totally Green. We use environmentally friendly detergents that are scientifically designed to attack the grime but be safe for you vehicles finish and the environment.
Starting in 1996 with 3 wash packages, then adding 2 more packages in 2009, our customers asked for a simpler menu. With the complete remodel in January 2017 adding more equipment and features we reorganized the packages. More features are now included in the Express, the Deluxe is the old Works, and the new Works includes the new features. Our Top wash compares in town to a $25 wash for only $16 with two other choices down to our basic $7 Express wash which all includes use of the vacuum.
With the remodel we no longer need to pre-wash your vehicle before it enters the tunnel ! A top brush glides over the top, two side and two flex wraps all equipped with soft foam removes the grime gently. High pressure side blasters that follow your wheels and tire shine all designed to make your ride shine.
HOURS:
Monday – Friday 7 AM – 6PM
Sat & Sun 9 A M-5 PM

LOCATION:
3100 Ryan Dr SE
Salem, OR 97301
(503) 316-1361